As you may have seen on the equipment list, we have a Glowforge Basic within the space. Please make sure to train yourself using our training website and read the rules below before cutting.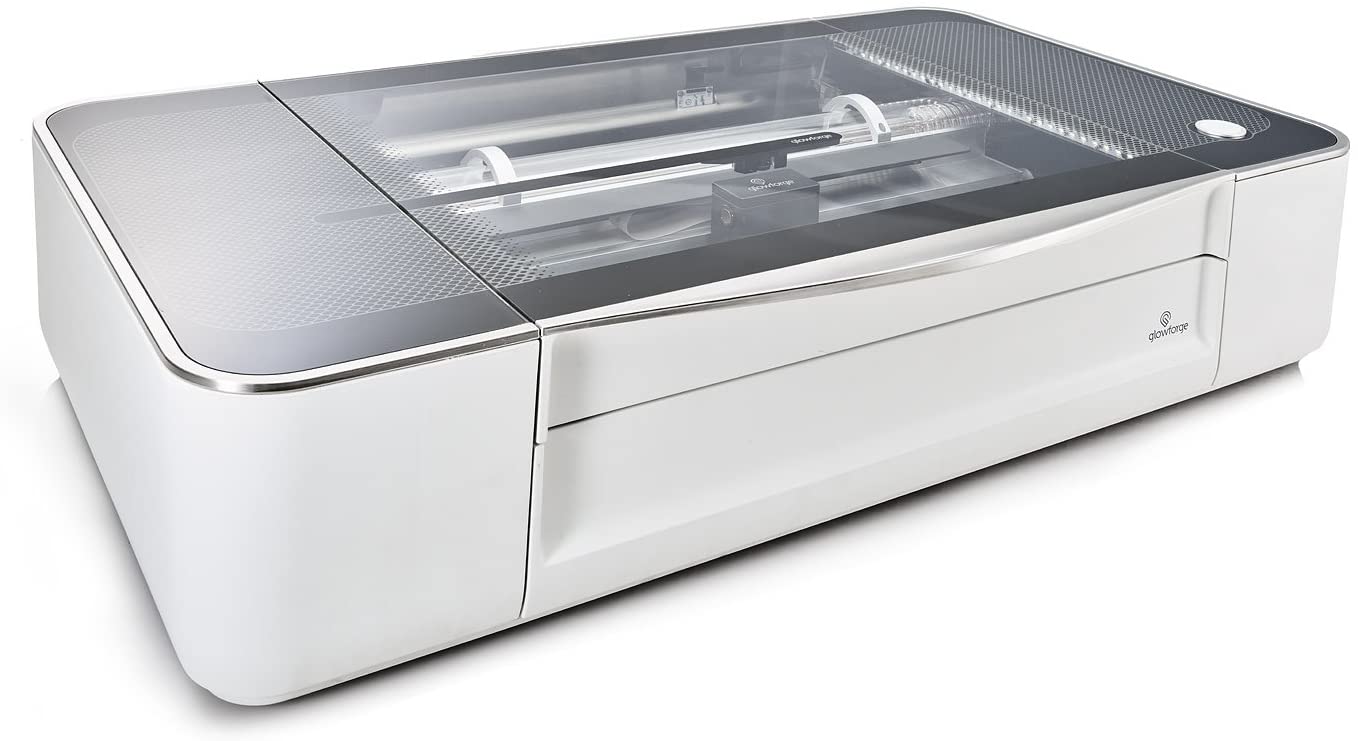 The laser cutter is a very versitile tool, but can be dangerous if used improperly. Please review the following rules before attempting to utitlize the laser cutter.
Always run the exhaust on high while processing a job.
Don't print non-approved materials on the laser cutter (see list below). Failure to comply will result in an immediate permanent ban from the UTDesign Makerspace.
Never leave a laser job running without supervision - always stay within sight and check inside frequently.
Do not modify or service laser cutter in any way. Notify a Makerspace officer if there are any complications with the machine.
Do not use the laser cutter if the glass or case is damaged or modified in any way.
Do not use the laser cutter if the interior is dirty or clouded.
Do not use the laser cutter if it is not hooked up to the exhaust. Please notify a Makerspace officer immediately if it has been disconnected.
Do not stare into the laser while it is running.
Wear the Glowforge safety glasses while using the laser cutter.
It is normal for a small flame to appear where the laser strikes the material. If the flame stays while the laser has moved past, then stop the print immediately. Extinguish the flame and adjust your material settings. If this doesn't resolve the issue, quit the job completely.
If the fire cannot be extinguished and it spreads outside the Glowforge unit, call 911 and evacuate the building.
For additional information, please visit the Glowforge Safety webpage:
https://support.glowforge.com/hc/en-us/articles/360033633314-Safety
Do not ever use the follow materials with the laser cutter (due to toxic fumes or catching on fire too easily):
PVC (Poly Vinyl Chloride)/vinvyl/pleather
Thick (>1mm) Polycarbonate/Lexan
ABS
HDPE (Milk Bottle Plastic)
PolyStyrene Foam
PolyPropylene Foam
Fiberglass
Coated Carbon Fiber
Using any of the above materials will result in immediate permanent ban from the UTDesign Makerspace.
Acrylic/Plexiglass
Paper/Card Stock
Cardboard/Carton
MDF
Plywood
Cork
Please keep in mind that these materials are no longer approved if coated in a toxic substance.
Speak with Amanda Robles, the Makerspace Faculty Advisor, for materials not included on this list.

Amanda Robles
972-883-2468
amanda.robles@utdallas.edu